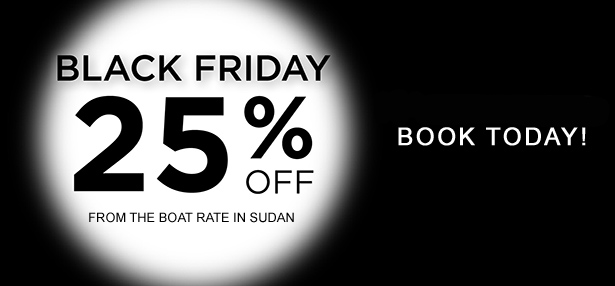 24 Nov 2016
Black Friday 25% Sale Today!
Thank you for your interest in our "Black Friday" very special Diving Safari Travel promotion! We are happy to welcome you onboard in SUDAN!
Below you will find the details of our offer for you that is valid only today, on November 25!
Our "Black Friday" 25% discount offer is valid only for the following 3 tours:
March 6 – 13, 2017 *** North tour
March 13 – 20, 2017 *** North tour
March 20 – 27, 2017 *** North tour
Your basic safari expenses are:
*Boat rate: instead of the regular EUR1,140 rate, NOW EUR855 / PERSON / WEEK, OUR "BLACK FRIDAY" (-25%) RATE!!!
*Fuel surcharge: EUR30 / person / week
*Sudanese taxes: EUR177 / person / week
*Sudanese visa fee: USD115 / person (for non-US citizens)
This offer is only valid for bookings on any of the above 3 tours and that are confirmed with a 30% deposit payment by bank transfer within 24 hours of the end of the promotion. Please send us the copy of your bank transfer to guarantee your places. (The offer is not applicable for already existing bookings.)
For booking confirmation, we will need your full name and address, so we can send you the contract and the invoice for your deposit payment.
(All EUR amounts are payable in advance on the invoice. The USD amount is payable in cash onboard upon arrival.)
We would arrange your Sudanese visa. For this we will need your passport copy (full page with photo). Your passport must
– be valid for at least 6 months after the departure date from Sudan
– not contain any stamps or visas from Israel
– have at least 2 empty pages side by side for the Sudanese visa
You may fly to Port Sudan via Dubai or via Cairo. We recommend purchasing your flight tickets as soon as possible because the rates are increasing as the weeks pass by.
Book now and visit Sudan with us in 2017 at an unbeatable price!