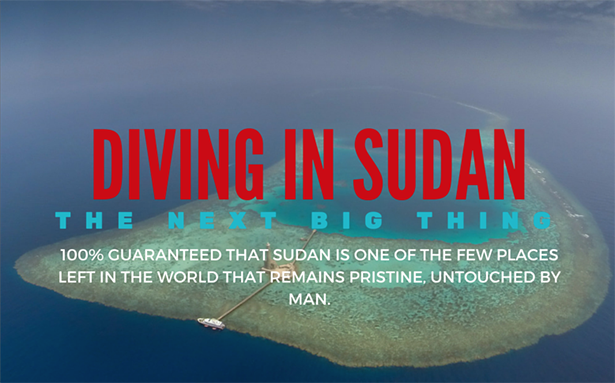 10 Mar 2016
Interesting facts about scuba diving in Sudan!
SCUBA DIVING IN SUDAN ON A LIVEABOARD IS THE NEXT BIG THING
Did you know?
Sudan is the largest, yet one of the least visited, countries in Africa. Although various ongoing conflicts mean much of this vast nation remains off limits, the northeast is one of the safest places in the world, and the easing of travel restrictions is opening up new swathes of ter- ritory to explore in the lovely south, where Africa transitions into the tropics.
The pyramids and other ancient sites littering the northern deserts may pale compared to the best Egypt has on offer, but you can usually experience these without another person in sight – and this sense of discovery often repeats itself in the towns, too, since Sudan's tourist trail is still no more than a trickle. And while the solitude is a top draw, visitors invariably agree that the Sudanese are among the friendliest and most hospitable people on earth, with a natural generosity that belies their poverty, and this alone makes any trip worthwhile.
Whether you rush through on a Cairo to Cape Town trip, or spend a slow month soaking up the history and hospitality, visiting Sudan is an eye-opening and rewarding experience.
The best option: Scuba diving in Sudan on a Liveaboard
With many sharks, manta rays and incred- ible visibility, Sudan's Red Sea dive sites are as good as Egypt's, but without the crowds.
100% guaranteed that Sudan is one of the few places left in the world that remains pristine, untouched by man.
No dive site is crowded, the visibility is still crystal clear, the reefs undamaged and the marine life is prolofic. The water temperatures range from 24 – 26 C in the winter to a warm 30 – 32 in the Summer.
Only 1200 people a year dive the Red Sea in Sudan.
The Umbria is one of the world's most beautiful ship wreck with so many details, that you won't find anywhere else in the world.
Precontinent II is one of the Sudan's best kept underwater secrets.
Check out our availabilty in Sudan HERE >>>