Our featured and last-minute promotions!
If you wish to dive at the most beautiful sites in the world from one of the best liveaboards, do not look any further! Book now because the places are filling up fast!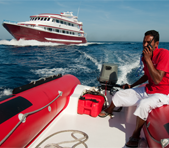 Egypt and Sudan last-minute diving safaris:
27/02/2017 - 06/03/2017 --- Andromeda --- Sudan - Far North tour
For more deatails please contact us!
AVAILABLE SPACES: