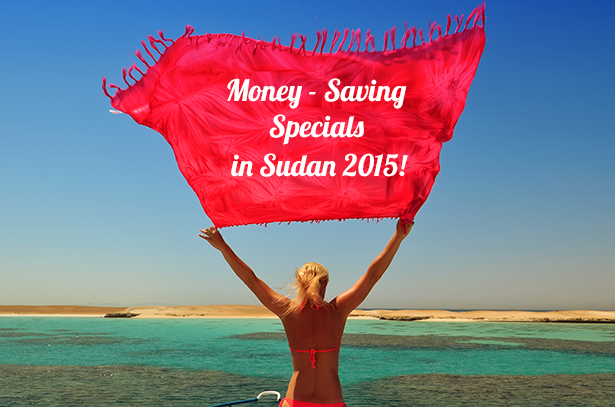 11 Nov 2014
Money-Saving Specials in Sudan
Take a break for a week! Whether it's with your Buddy, your friends or with your family for your annual holiday, Sudan is the perfect scuba diving holiday destination for that special last-minute getaway!
If you are looking for the perfect last-minute holiday, stop here! We have some fantastic offers ready and waiting for you!
And we have made it really easy for you. Plan your scuba diving holiday with us onboard M/Y Cassiopeia or M/Y Andromeda and find all our current offers in one place!
1. 'Ladies week'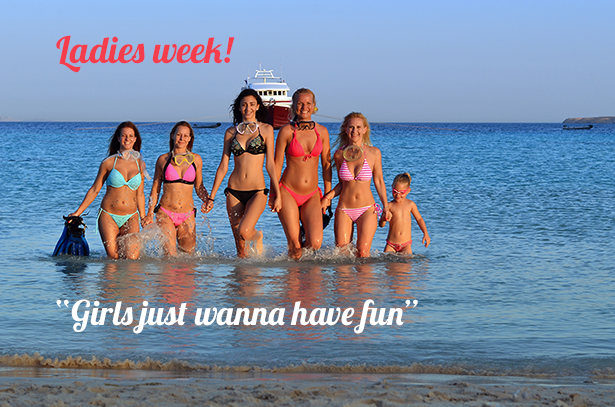 "Girls just wanna have fun" – that's exactly what's going to happen in Sudan during Ladies Week, from March 2 – 9, 2015.
During this week all of you Ladies will receive an extra treat in the Sudanese Red Sea onboard Cassiopeia: 50% OFF from the boat rate!
7 nights in one of our Queen-bed or Twin-bed cabins with your Buddy including all our regular services.
Also included:
FREE Nitrox use for your Buddy
2. 'Happy Birthday to You'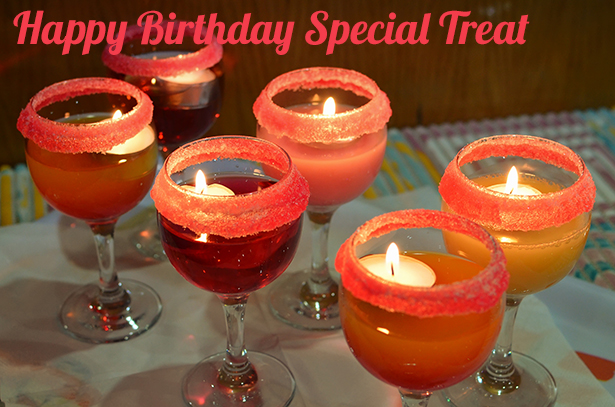 We have a Special "Happy Birthday" offer during February and March. Celebrating your birthday is so much sweeter when you're enjoying free birthday stuff and birthday discount deals like these:
20% OFF from the boat rate
FREE Nitrox
Complimentary Birthday Cake
Complimentary bottle of wine
Present from the crew
3. 'We are family'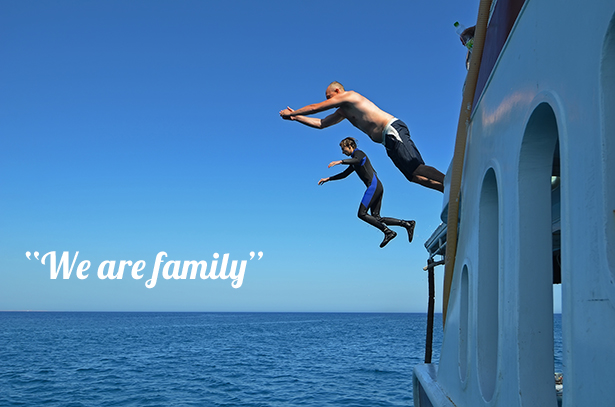 BRING OUT THE WHOLE FAMILY TO DIVE. We all lead such busy lives. That's why a family scuba diving vacation is the perfect opportunity to spend quality time with your loved ones.
2 parents + 1 Kid (12 – 20 years): kid receives 50% OFF from the individual boat rate
2 parents + 2 Kids (12 – 20 years): each kid receives 25% OFF from the individual boat rate
ID is required at the time of reservation to apply the discount!
4. 'Friends package'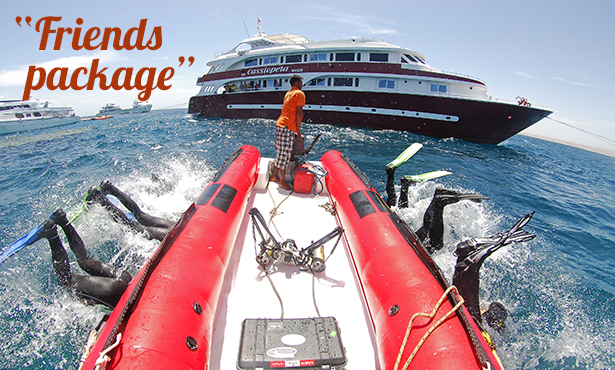 "I'll be there for you…" Diving with a good mate or a loved one always makes the experience all the better. That's why we have a "Dive Buddy" Special during March. If you and your Dive Buddy both sign up for a diving safari during March, 2015 we will offer you both a 10% discount from our boat rates.
With further questions or bookings please contact us at online@cassiopeiasafari.com
The boat rates include:
*7 (14) nights full-board accommodations onboard in double cabins
*Buffet-style meals 3 times a day and fruits and snacks
*Mineral water, tea, coffee (Nescafe), unlimited soft drinks (Cola, Fanta, Sprite)
*Minimum 2 English-speaking dive guides
*Diving:
– Day 1: 2 day dives and 1 night dive
– Day 2-5: 3 day dives and 1 night per day
– Day 6: 2 day dives (returning to the marina after the second dive)
Note: In case long navigation is required or because of bad weather conditions, dive
schedule may be limited or some dive sites may become unreachable. It is always the
captain's decision, keeping in mind the safety of the guests, crew and the boat.
*One 12l aluminum tank / person (DIN connection recommended), weights
*Boat permissions
*Shisha (waterpipe) onboard in the Arabic cafe
*Bed linens and towel use
*WIFI where coverage is available
Our offers do not include:
*Airplane tickets
*Нotel stays in Dubai/Cairo/Khartoum
*Transfers
*Visas and airport/tourism/government taxes
*Single-cabin surcharge: 30% of the individual boat rate
*Аlcoholic beverages (limited supply)
*Equipment rental (upon request, limited supply)
*15l steel tank rental: EUR5/tank/day (upon request, limited supply)
*Nitrox: EUR5/tank or EUR80/person/week (max. 32% O2)
*Satellite phone use: EUR3/minute
*Personal expenses
*Lost towel fee: EUR10/towel, lost weight fee
*Bakshish (tip to the guides, crew, EUR50/person/week is recommended)
*Touristic programs
*Travel and diving insurance
*All other expenses not mentioned above
Passports
*They must be valid for at least 6 months after the departure date from Sudan.
*There must not be any stamps or visas from Israel in them.
*They must have at least 2 empty pages side by side for the Sudanese visa.
Sudanese visa
Sudanese visa issued by RSBH
*Only valid for the Red Sea State (Port Sudan area)
*Only valid for the duration of the safari
*For travels outside of the Port Sudan area and outside of the duration of the safari, visas must be obtained at your
local Sudanese Embassy.
*The Sudanese visas are prepared in Port Sudan in advance, before the start of the tours.
*For arranging the visas, the copies of the guests' passports must be sent to us by e-mail at the time of booking and no later than 2 weeks before the tour.
*The copies of the visas will be sent to the tour operators/guests which should be printed out and presented at the Port Sudan check-in in Dubai.
*The actual visas are placed into the passports at the Port Sudan airport.
The Sudanese Expenses:
*EUR242 / person / week
*EUR287 / person / 1+1 weeks
*EUR314 / person / 2 weeks
Included: According to present Sudanese Government regulations and subject to change.
*Sudanese visa
*Passport registration fee in Sudan
*Tourism fee
*Sudanese agent fee
(administration, Port Sudan airport assistance and transfers)
Travelling to Port Sudan: on Mondays.
Via Dubai
Flights may be booked with Emirates Airlines or directly at
www.flydubai.com.
Via Cairo
Contact us for further details.
IMPORTANT NOTE: The promotions cannot be combined and are valid only for new bookings!