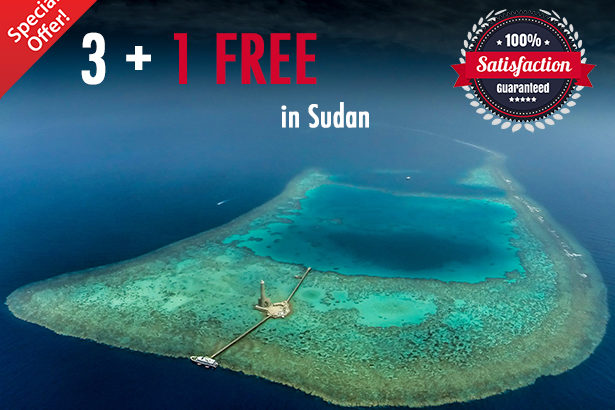 13 Apr 2015
3 + 1 FREE in Sudan!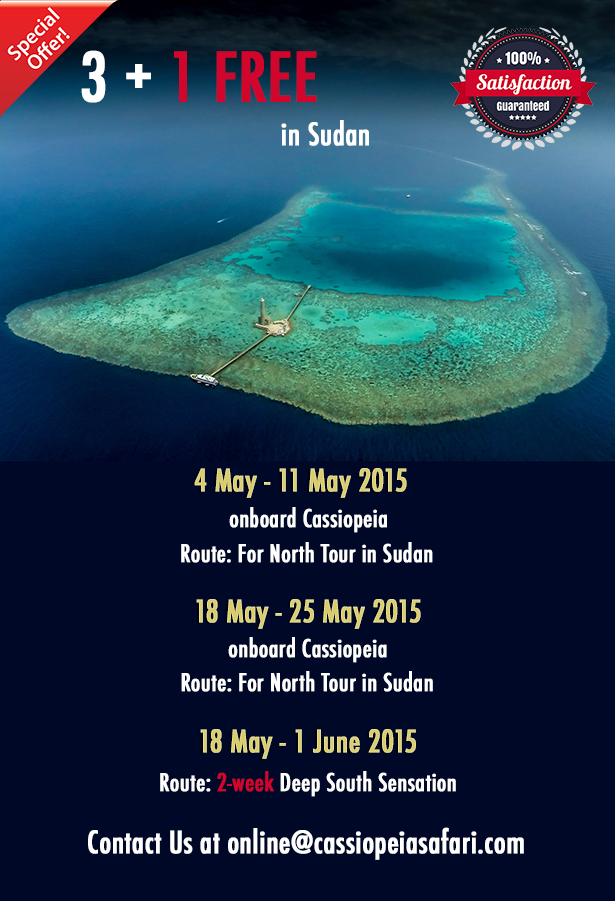 Don't miss out on this amazing special! If you are wondering where to go to this spring to satisfy your diving cravings, then Sudan seems to be a very hot ticket right now.
Why Sudan?
The diving is brilliant: colourful healthy reefs, sharks, dolphins, turtles and lots of fish.
The best time for diving in Sudan is between February and June.
You can choose from 5 unique itineraries all the way from the north to the deep south.
We have two excellent liveaboards and rates ranging from budget to luxury, depending on the route and season.
We have some great offers running at the moment.
Contact our Team for more information and be sure 2015 does not slip by without you making some fantastic diving memories.
Boat rates include:
7 (14) nights full-board accommodations onboard in double cabins
Buffet-style meals 3 times a day and fruits and snacks
Mineral water, tea, coffee (Nescafe), unlimited soft drinks (Cola, Fanta, Sprite)
Minimum 2 English-speaking dive guides
Diving:
– Day 1: 2 day dives and 1 night dive
– Day 2-5: 3 day dives and 1 night per day
– Day 6: 2 day dives (returning to the marina after the second dive)
Note: In case long navigation is required or because of bad weather conditions, dive
schedule may be limited or some dive sites may become unreachable. It is always the
captain's decision, keeping in mind the safety of the guests, crew and the boat.
One 12l aluminum tank / person (DIN connection recommended), weights
Boat permissions
Shisha (waterpipe) onboard in the Arabic cafe
Bed linens and towel use
WIFI where coverage is available
Boat rates do not include
Airplane tickets
Нotel stays in Dubai/Cairo/Khartoum
Transfers
Visas and airport/tourism/government taxes
Single-cabin surcharge: 30% of the individual boat rate
Аlcoholic beverages (limited supply)
Equipment rental (upon request, limited supply)
15l steel tank rental: EUR5/tank/day (upon request, limited supply)
Nitrox: EUR5/tank or EUR80/person/week (max. 32% O2)
Satellite phone use: EUR3/minute
Personal expenses
Lost towel fee: EUR10/towel, lost weight fee
Bakshish (tip to the guides, crew, EUR50/person/week is recommended)
Touristic programs
Travel and diving insurance
All other expenses not mentioned above
Fuel (diesel) surcharge: EUR30 / person / week
As a result of the massive (more than 70%) diesel price increase by the Government of Egypt, we had no choice but to levy a fuel surcharge from August 1, 2014.
To minimise the inconvenience to our clients, our company is going to bear the bigger part of this additional expense and only the smaller amount will be applied to you. (In the past our company had absorbed the various fuel price increases but now they have reached remarkable proportions.)
Sudanese expenses: According to present Sudanese Government regulations and subject to change.
The Sudanese Expenses include:
Sudanese visa
Passport registration fee in Sudan
Tourism fee
Sudanese agent fee (administration, Port Sudan airport assistance and transfers)
Rates:
EUR242 / person / week
EUR287 / person / 1+1 weeks
EUR314 / person / 2 weeks
Travelling to Port Sudan: Monday flights.
Via Dubai
Flights may be booked with Emirates Airlines or directly at
www.flydubai.com.
Via Cairo
Contact us for further details at info@cassiopeiasafari.com