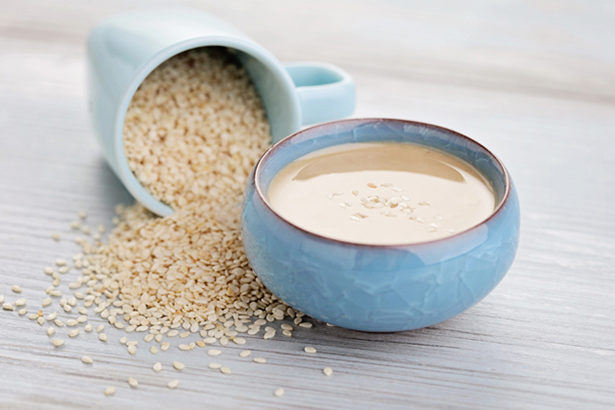 30 Nov 2015
9 Egyptian recipes you will love – guaranteed!
The following Egyptian recipes are not only delicious but they are also very easy to prepare, even for beginner cooks. Make them for yourself, for your family and for your friends. You do not have to go to Egypt for the ingredients, they can easily be found at your local grocery stores.
Most Egyptian dishes can be found in slight variations in other countries as well. One exception may be "koshari", a traditionally Egyptian dish. Its origins are not quite clear. Some say it existed as early as in the 19th century. According to some it originated in Turkey, though the dish cannot be found there. Some say it is actually an Indian dish that was introduced by the British Imperial troops in the late 19th or early 20th century which is the most likely explanation to "koshari"'s origins.
One thing is for sure. You can't help but find "koshari" everywhere you go in Egypt. It used to be known as the meal of poor people because of the cheap and affordable ingredients but nowadays it is pretty much consumed by everyone.
The Egyptian cuisine is famous all over the world and these are some of the favourites.
1. The heavenly falafel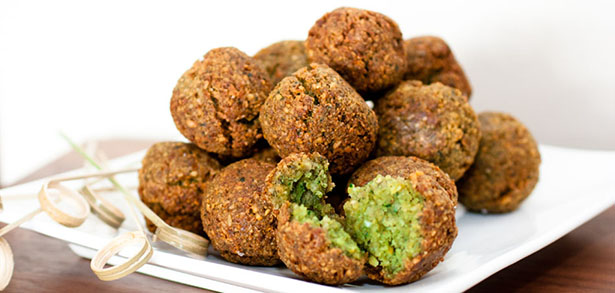 INGREDIENTS
400g dried chickpeas or fava beans
1 onion, finely chopped
2 garlic cloves, finely chopped
a bunch of fresh parsley, finely chopped
½ tsp ground cumin
salt
150g flour
1 egg
2 tbsp sesame seeds
vegetable oil
PREPARATION
If using dried peas, soak them in cold water overnight. Drain soaking water, rinse well and add just enough water to cover the peas. Cook them over low heat until soft. Add more water if needed. (If using canned peas, rinse under cold water and continue with recipe.) Mash peas well or pulse a couple of times in a food processor.
Sauté onion and garlic until soft and fragrant. Add to peas along with parsley, cumin and a generous sprinkling of salt. Let cool completely.
Form into golf ball-size balls. Place flour into a shallow bowl and whisk egg in another bowl. Spread sesame seeds over a plate. Roll balls into flour and dust off excess. Then dip into the egg and roll into the sesame seeds. Place balls onto a tray and refrigerate for 30 minutes.
Warm oil over medium heat. Drop in a little piece of the falafel mixture and if it begins to sizzle, the oil is hot enough. Fry falafels in small batches until golden brown. Drain on paper towel.
Serve in a pita with tahina and lettuce and tomatoes.
2. Tahina (sesame seed paste)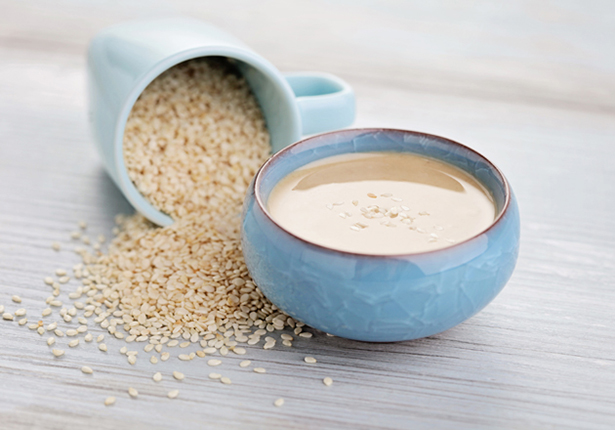 INGREDIENTS
100g sesame seeds (may be toasted)
1 garlic clove, finely chopped
½ tsp salt
2-3 tbsp olive oil
about 50ml water
fresh lemon juice
PREPARATION
Grind sesame seeds in a clean spice grinder. Place into a food processor and add garlic, salt, olive oil and some water. Process until smooth, adding more water if necessary. Adjust seasoning and season with fresh lemon juice.
3. Red lentil soup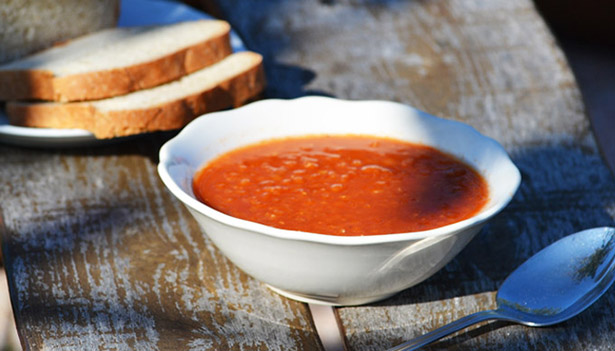 INGREDIENTS
200g dried red lentils
6 cups (1500ml) water
2 vegetable stock cubes
1 onion, chopped
3 garlic cloves, finely chopped
2 ripe tomatoes, chopped
3 bay leaves
salt, pepper
ground cumin
fresh lemon juice
PREPARATION
Pick over lentils and rinse well. Place into a saucepan with water, stock cubes, onion, tomatoes, garlic and bay leaves. Season with salt and pepper. Bring to a boil. Cover and simmer over low heat 20-40 minutes until lentils are soft. Remove bay leaves and puree with a hand-held mixer until nice smooth consistency.
Adjust seasoning with salt and pepper and add a generous pinch of cumin and about 1 tbsp lemon juice.
4. Stuffed grape leaves (mahshi wara einab)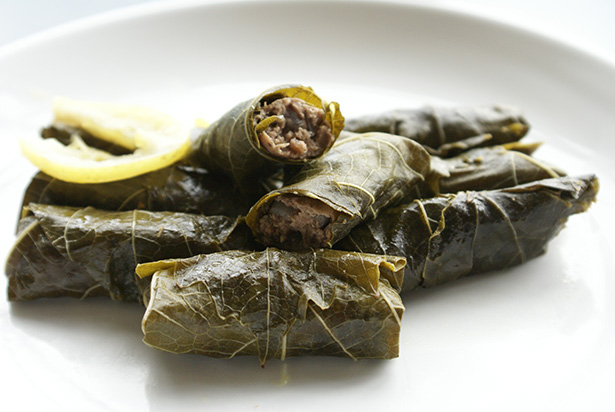 INGREDIENTS
400g grape leaves in brine
2 onions, finely chopped
2 tbsp fresh dill, chopped
2 tbsp fresh cilantro, chopped
2 tbsp fresh parsley, chopped
2 tbsp tomato paste
50g rice
salt, pepper
400g ground meat (preferably lamb but may be omitted for a vegetarian version)
chicken or vegetable stock
Rinse leaves and unfold them to be ready to fill.
Sauté onions in olive oil until soft. Stir in green herbs, tomato paste, rice and a generous sprinkling of salt and pepper. Stir to coat the rice well. Remove from the heat and let cool. (If using meat, mix into the cooled rice mixture.)
Place about 2-3 tsp filling onto the bottom edge of each leaf. Fold in the left and right sides and roll it up. Rolls should be about the length and width of a finger Place some unfilled leaves onto the bottom of a heavy and wide-bottom saucepan. Pack rolled-up leaves into the pan very tightly. You may start a second layer as well if the pan is not large enough to hold them in one layer.
Gently pour in enough boiling stock to just cover the rolls. Place a lid on top of the rolls to weigh them down. (Lid should be smaller than for the pan itself, to fit inside the pan.) Cover the pan with its own lid and let the rolls cook over medium-low heat for about 40-50 minutes or until all liquid has been absorbed.
Remove lid and very carefully, with a kitchen mitten, the smaller lid as well. Serve warm with some plain yoghurt seasoned with fresh mint.
5. Koshari – Egypt's national dish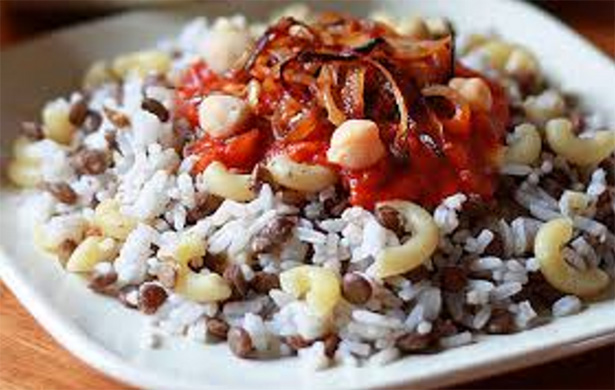 INGREDIENTS
2 cups (500ml) rice
2 cups (500ml) dried brown lentils
2 cups (500ml) canned chickpeas
100g elbow macaroni
100g spaghetti
1 onion, cut in half and thinly sliced across the grain
vegetable oil
1 onion, finely chopped
4-6 garlic cloves, finely chopped
2 cans tomatoes (400g each), chopped
salt, pepper
sugar
ground cumin
½ tbsp white vinegar
Optional – garlic sauce:
3 garlic cloves, finely chopped
1 tbsp olive oil
½ tbsp fresh lemon juice
1 tbsp white vinegar
pinch of ground cumin
pinch of hot pepper flakes
⅓ cup water
PREPARATION
Cook rice in slightly salted water. Do not stir. Grains should separate nicely. Pick over lentils, rinse and cook in salted water. Drain. Drain and rinse chickpeas under cold water. Cook macaroni until al dente. Break spaghetti into smaller pieces and cook until al dente.
Fry sliced onion in hot vegetable oil until golden brown. Drain on paper towel. It should be crisp.
Sauté finely chopped onion and garlic in olive oil until soft. Add tomatoes with their juices. Season with salt, pepper, a pinch of sugar and some cumin. Simmer over medium heat until reduced a bit and nice saucy consistency. Stir in about ½ tbsp vinegar.
To serve, mix together the two pastas. Place onto the bottom of a bowl. Mix together the rice and lentils and spoon over pasta. Spoon some tomato sauce over the mixture and top with some garlic sauce (if using), chickpeas and fried onions.
For the garlic sauce, sauté garlic in olive oil until fragrant but not browned. Add lemon juice, vinegar, cumin and pepper flakes and simmer for a couple of minutes. Add water.
6. Baba ganouh (eggplant dip)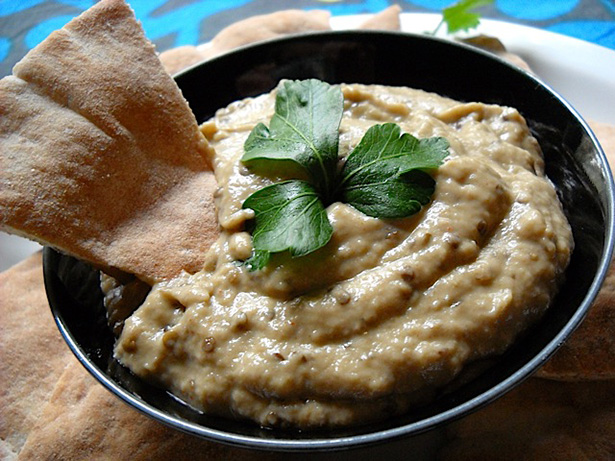 INGREDIENTS
2-3 medium eggplants
2-3 tbsp olive oil
⅓ cup (80ml) tahina
2 garlic cloves, finely chopped
fresh lemon juice
salt, pepper
PREPARATION
Rub the outside of the eggplants with some olive oil. Place them onto a baking sheet and roast in the oven at 450F (180C) for about 15-20 minutes or until skin is slightly charred and the inside is tender. Let cool.
Peel and seed the eggplants and chop the flesh roughly. Transfer into a food processor. Add garlic, tahina, some fresh lemon juice, salt, pepper to taste and a few drops of water. Process until desired consistency. Some prefer it smooth and some if mixture is a bit chunky.
Adjust seasoning and serve with fresh pita.
7. Baked fish with vegetables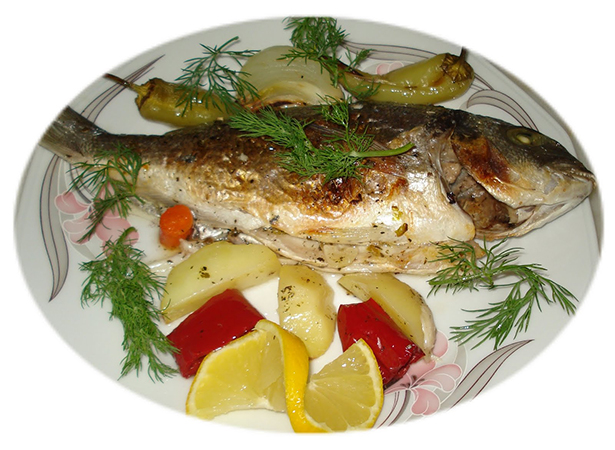 INGREDIENTS
1kg whole fish, cleaned and gutted (for example perch, sole, sea bass, Nile sunfish)
1 lemon
2 large potatoes, peeled and cut into 1" (2cm) cubes
3 carrots, peeled and slices
3 celery stalks, sliced
2 onions, thinly sliced
4 garlic cloves, finely chopped
2-3 large tomatoes, chopped
salt, pepper
1 large tomato, thickly sliced
PREPARATION
Cut lemon in half and rub fish all over with cut side. Make 3 diagonal cuts in the fish and season well with salt and pepper. Place into an oiled baking pan with high sides.
Par-boil potatoes and carrots separately. Sauté onions in olive oil until soft. Add garlic and chopped tomatoes and simmer for about 7 minutes. Stir in potatoes, carrots and celery and season with salt and pepper. Simmer for 5 minutes. Arrange vegetable mixture around fish. Top fish with tomato slices.
Bake at 350F (180C) for about 30 minutes or until fish is flaky and baked through.
For pastry:
2 lemons
3 eggs
3 cups (750ml) semolina
3 cups (750ml) shredded coconut flakes
3 cups (750ml) sugar
3 cups (750ml) plain yoghurt
For syrup:
1 cup (250ml) water
1 cup (250ml) sugar
1 lemon
1 cup (250ml) shredded coconut flakes
PREPARATION
Remove zest of 1 lemon with fine lemon zester and squeeze out juice of both lemons. Mix together all pastry ingredients along with lemon juice and zest. Refrigerate for at least 3 hours.
Butter a square baking pan and dust with flour. Tap out excess. Stir mixture well and place into the prepared baking pan. Smooth out. Bake at 350F (180C) for 30 minutes or until tester comes out clean.
While pastry is baking, prepare the syrup. Combine water and sugar in a saucepan over high heat. When sugar dissolves, lower the heat and let simmer until mixture slightly thickens and becomes syrupy. Remove from the heat and add fresh lemon juice.
Pour hot syrup over baked but still hot pastry. Sprinkle with coconuts and let cool completely in the pan. Cut into small cubes.
9. Spicy Arabic coffee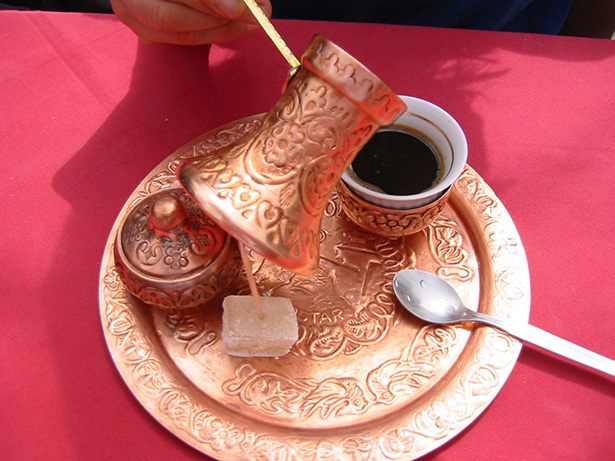 INGREDIENTS (6 servings)
6 small coffee cups of water
6 tsp sugar
8 tsp freshly roasted and very finely ground coffee (almost as fine as powder sugar)
1-2 cardamom pods
PREPARATION
Pour water into a Turkish coffee maker called a cezve. Warm up water and add sugar and coffee. Put back onto the burner and bring it to a boil without stirring. When coffee is boiling, remove from the heat. Mix well with a spoon and return to the heat. Bring to a boil again. Repeat these step 3-4 times. Finally remove coffee from the heat and add cardamom pods. Tap the side of the cezve with a spoon a few times. Let the coffee grinds settle on the bottom and the spices infuse the coffee.
Spoon some foam from the top and place into warmed small coffee cups. Pour in the coffee. Wait a few minutes while the coffee grinds settle at the bottom before drinking. When finished, as it is done traditionally, place cup onto saucer upside down.