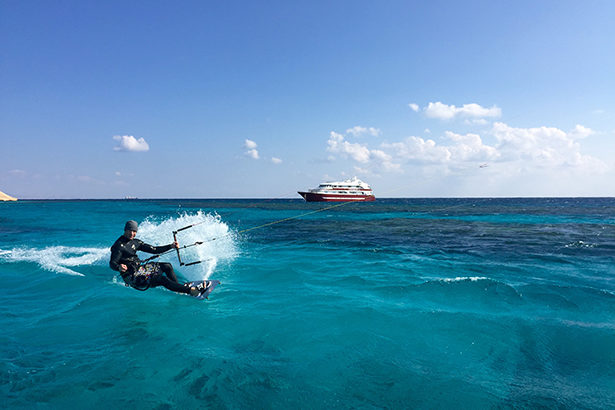 13 Jan 2016
Kite safari or diving safari? Can I have both, please?
We were looking to answer the question above during the last week of 2015… in the Red Sea… We've always known that to dive in this place is one of the biggest dreams of divers. The abundant marine life, especially nearby the coral reefs, is really astounding. It is also a well-known fact that surfers and kite surfers are regulars here, especially during the winter months, when stable and infinitely steady winds can be expected with great certainty.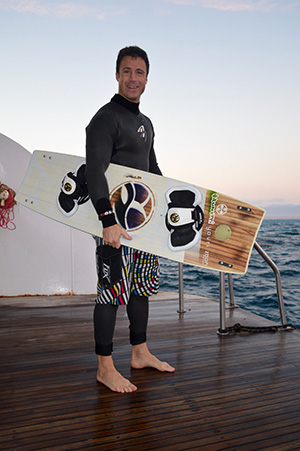 Along with Balázs, an experienced kite surfer friend of mine, we were invited onboard a well-equipped diving liveaboard by the company's management who have long been interested in the possibility of this "2 in 1" concept. Our 3-hour plane ride and an indescribably warm welcome was followed by some sightseeing in town. Let's just say that land traffic here doesn't resemble anything we've come to know. 🙂
The next day we sailed out early in the morning because diving comes first on a diving safari! The crew on the boat was very friendly and professional. I know a thing or two about maritime boating but as in the case of land traffic earlier, the same goes for sailing practices as well.
It's obvious that you need to have comprehensive knowledge of and experience in the area for sailing in these waters. Large expansive coral reefs, which are often beneath the water surface, lie sporadically in the wide open sea, mostly without any markings. The diving boats moor near these reefs on the opposite side from where the winds blow, usually sideways, mostly perpendicular to the wind's direction. Since the mooring spots are limited at each reef, after a while the art of "over-mooring" begins. Honestly, it's amazing to see as they tie 4-6 ropes to the buoys that are secured to the bottom of the sea (as not to damage the corals when mooring).
The two of us didn't dive that day and the winds were not substantial either, so we went snorkelling, which became a lasting experience in the 24C water right next to a huge coral reef stretching out wide.
The following morning we woke up to a brand new – to us anyway – place and the winds were promising. They were blowing steadily, calmly and getting stronger. Meanwhile the divers were doing their own thing and we began preparing for taking off from the boat since we were in the middle of the sea, with no islands in sight.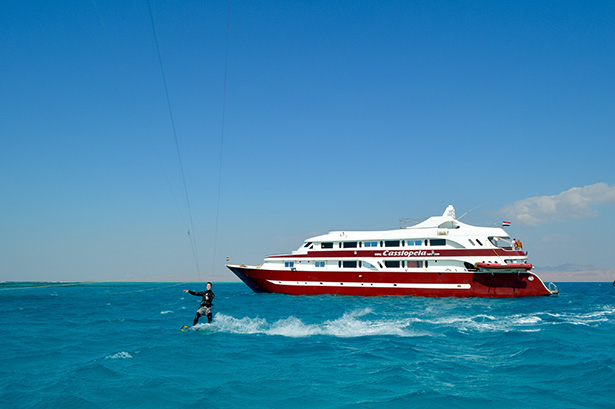 All of you familiar with kite surfing know that it's no easy task to take off from a boat but we didn't want to miss such an opportunity. Together with the crew's enthusiastic support, finally we managed and we were ripping the waters until sundown.
The next day in the morning we found ourselves again at a new location with really strong and still steady winds, an all too common occurrence for the locals. We went for it again, this time with a little more know-how, and had a great day kiting.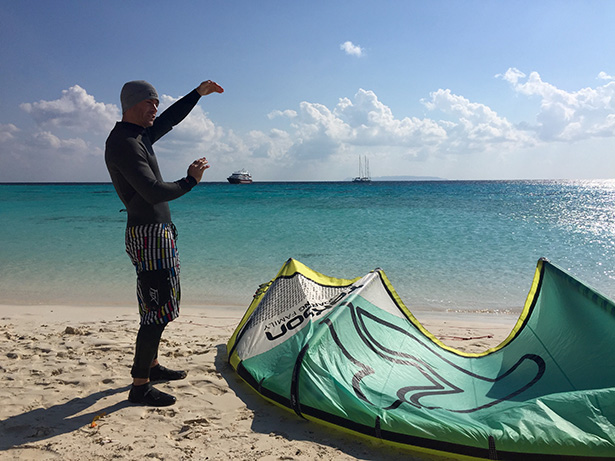 We stayed near a small uninhabited island for the next two days. The horseshoe-shaped place surrounded by the reef is called Dolphin Bay and with reason. It's a place where divers and kite surfers alike can pay homage to their passion. It's an amazing feeling to get out of the zodiac and step onto the white sandy beach. 🙂
The winds were exemplary as usual – stable and strong. The sun was shining. What else do you need? 🙂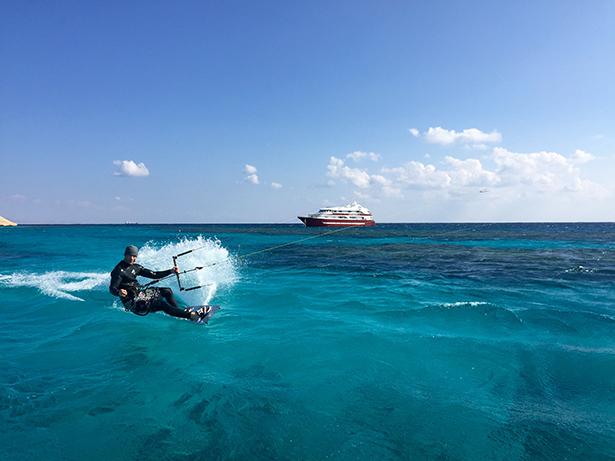 We took off and we were loving it. Of course in case of any problems, one of the two zodiacs was always nearby to come and help us out. The other one was minding the divers. From the slowly descending snow-white sandy beach and in warm winds that would bring shame to any industrial-sized hairdryer, even a complete beginner can learn in great strides how to kite surf! And the more advanced surfers can attempt even gutsier moves than what they may be otherwise used to!
In the afternoon we went diving too and this time with tanks! It was great to descend beneath the surface of the water into a world of still calm after some action-packed kiting and jumping. There is truly a new wander everywhere – a wreck, moray eels, scorpion fish, eagle ray, etc.… Then at sundown the boat bell rang… It was still early for dinner and too late for a briefing. Then "it must be a DOLPHIN!!!", said Balázs and he was already in the water. Such luck… A mother and her calf appeared in the bay for a little swim!
Such and similar experiences, spiked with an excellent chef and lovely shisha, can truly become rad experiences.
And through it all it became obvious that there is no need to choose between Kite Surfing or Scuba Diving. They can both live side by side and better yet, complement each other wonderfully!
I can hardly wait to return…