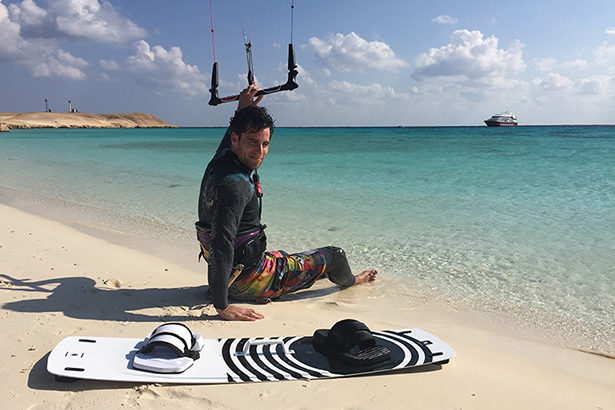 18 Jan 2016
Red Sea kite surfing safari onboard Cassiopeia
The start
It all started with a phone call… There were 2 empty places left on a luxury liveaboard and they were wondering if were interested in some kite surfing during the safari. After some quick schedule organising along with my friend Gergely Benesch, we were able to free up the week. …And the next day we were already sitting on the plane and still couldn't believe it… J

Travel
I will try to tell my story mostly from a kite surfer's point of view. I was able to travel with a 31kg golf bag that was large enough to contain 2 kites, 2 booms, 1 board, the control bars, neoprene suits and lots of other stuff. A fatal mistake would be to leave behind a dive mask and snorkel pipe, so don't forget to pack those either! J In addition I was able to take with me a hand luggage and a laptop bag or smaller backpack.
(There are non-stop flights between Hurghada and most large European cities as well as direct flights between Cairo and Hurghada.)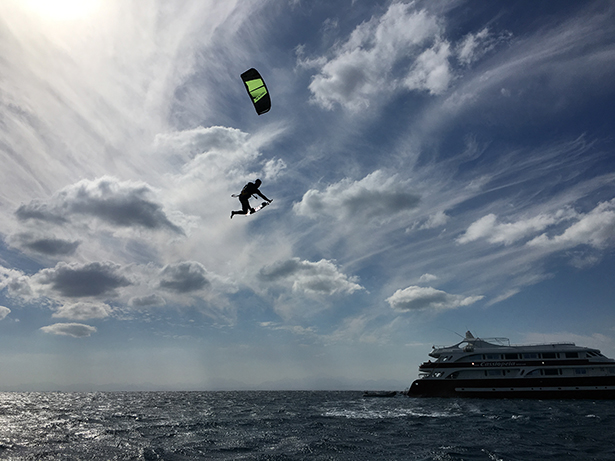 Onboard
A large and spacious 4-storey (deck) liveaboard has plenty of room for every equipment and bag, separate boxes, lots of air-drying facilities for wet suits and kites and the roomy cabins have their own private bathrooms with showers and toilets, and all this in a high-end packaging. The top deck provides a space for sunbathing, relaxing, doing some yoga and even bodyweight exercises if some people still had it in them after a day of kiting. J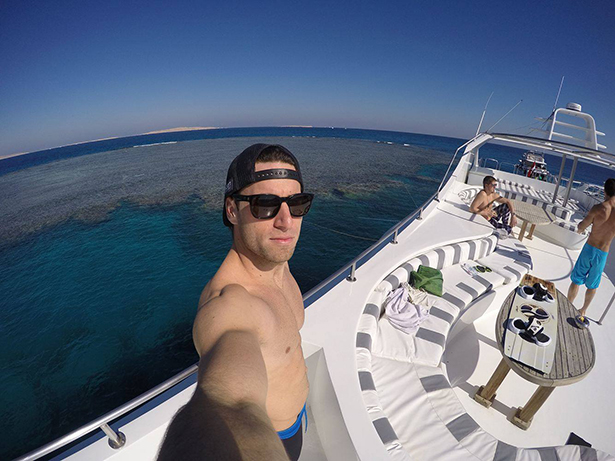 No need to worry about the food because the 3 times daily buffet-style meals were way more than we ever expected. It's worth to note that every and each meal was delicious and everybody can find something to their taste… Just watch out for those extra kilos! J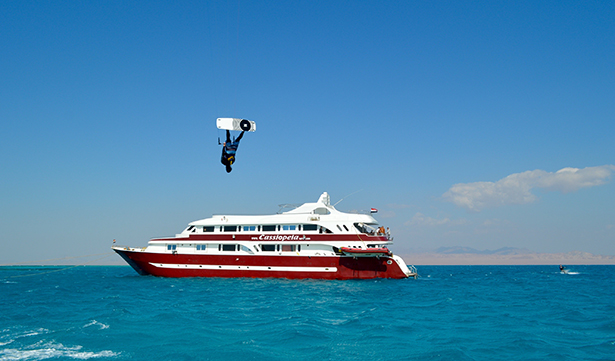 The shisha room is where at night we could smoke as much shisha as we wanted to, talk about the day's events and even analyse our videos.
Kite and snorkel
This region of the Red Sea has an abundance of wind and our main daily wind direction was from the northwest. The main characteristics of these winds are that they are steady, dense and compressed which are essential for kite surfers preferring especially great jumps. Since compressed winds are suitable for beginner and advanced riders alike, no need to be scared of stronger winds because they won't be jerking and yanking us around due to their steady nature. This makes for easy riding and learning. The water temperature is around 22-24C even in the winter and the air temperature about 25C, providing ideal conditions. Sometimes the winds die down a bit for a day or two giving us a chance to mix things up and get out the snorkel and diving gear. You can also do some test or introductory diving from the boat after arranging everything with the guides onboard and experience some of the world's most colourful and diverse coral and marine life.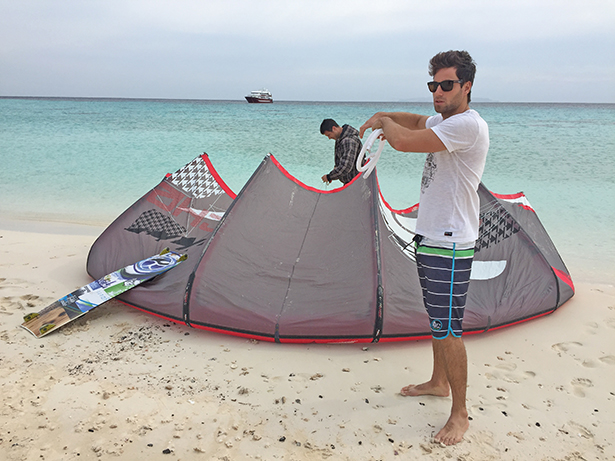 The best spots pretty much for everybody were the shallow turquoise waters and the white sandy beaches in front of which we could surf on smooth water void of any choppy surfs. Whatever your experience, under such ideal conditions satisfaction and progress are guaranteed. The beauty of the sand bars and the uninhabited islands we visited was unparallel and immediately had become our favourites. Then the valid question comes – how do we get to these islands with such a large boat? Well, the crew, ready for everything, carried us and our gear between the boat and the beach by zodiacs (motorboats). There's no fear of drifting far out or not being able to get back because the zodiacs are always ready to help out with any difficulties be it a lost board, untied kite, drifting away or anything else. The stretch along the shore is virtually free of coral and rock where we can glide as close as 10cm from the sand and jump up to 10m from where an amazing panoramic view opens up before our eyes. It's a perfect place for photography as well.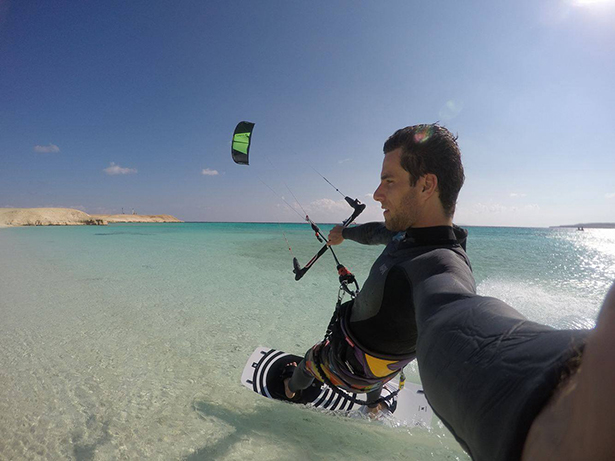 Everybody should experience this sensation if at all possible… it would be a shame to miss it. Private kite surfing lessons can also be arranged at any level.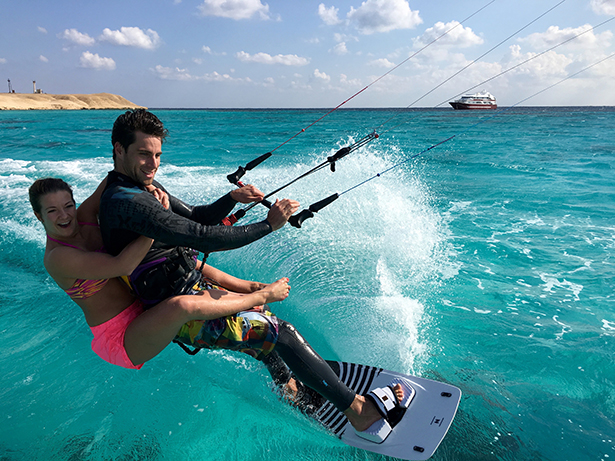 Kites and family
A great plus of such a safari is that it can be a holiday and kiting in one. On many kite tours where families also join the surfers, there is often a slight conflict within the families when one of them goes off to ride all day every day for a week while the others wait in a hotel for them to return. However here on the boat the rest of the families can also find activities suitable for them like snorkelling, discovering the islands, sunbathing and even acquiring some of the basic kite surfing moves and all this at a good visible distance. All this being said, you don't have to be a kite surfer to enjoy some great experiences here.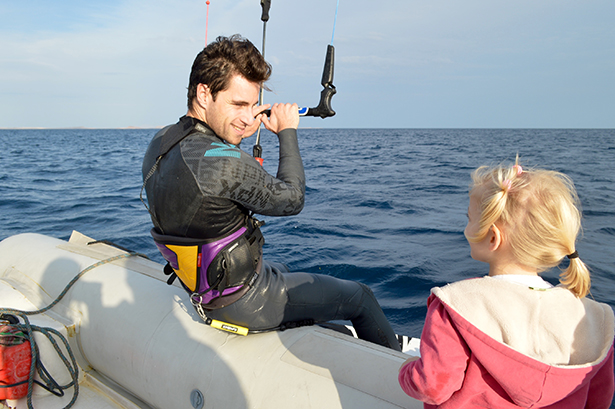 Luck and dolphins
We can meet up with dolphins during and after kiting too. Some species especially like to swim with humans and to see them surfing or diving. This is how I was able to approach a young dolphin about 30cm from me and swim and play with him while the others were swimming around us, making their usual dolphin sounds. This was one of my life's greatest moments, to be able to swim with dolphins living in the wild and I would like to share this feeling with more and more people in the future.
To live through so many new experiences during just one safari is unimaginable but it was true:
– kite surfing in gorgeous, unique and pristine spots
– snorkelling and scuba diving in one of the world's most colourful seas
– meeting and swimming with dolphins
– all-inclusive accommodations
– weeklong liveaboard tour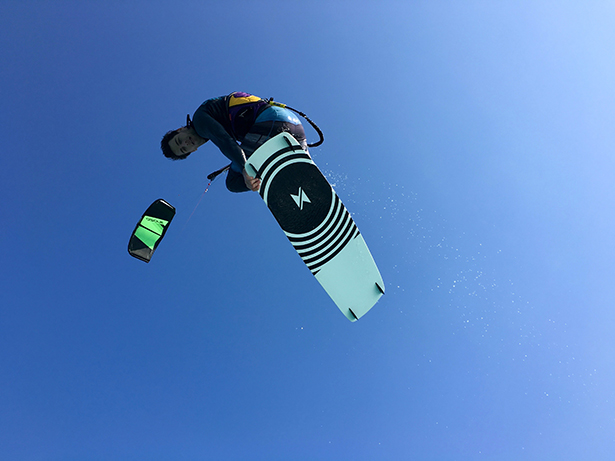 I hope to see you soon… Good winds to you all. J
Balázs Füredi
Pro kite surfer, IKO instructor/tour organiser