Abu Hashish is the island at the centre of a wide bay, 90 minutes South of Hurghada/Egypt. The island was once used as a drop-off point for smugglers bringing hash into the country. A tongue of reef extends about 1 kilometre South of the island. The dive site is at its Southernmost tip. There is a shelf between 15 and 22 metres outside and beyond that a steep but fairly bare drop-off, usually with superb visibility. Inside the tongue of reef is a scattering of long ergs.
Location: Red Sea / Egypt / Hurghada
Description: Reef with coral garden
Depths: 18 meters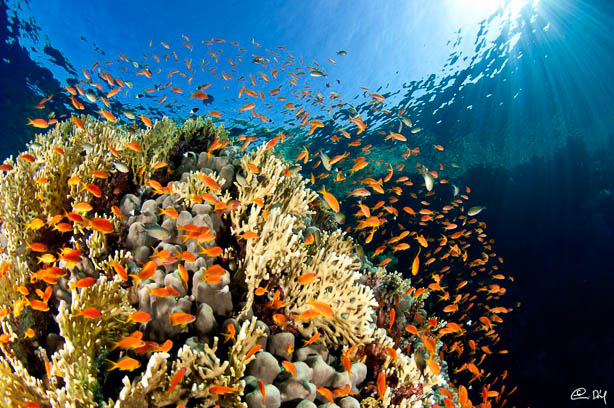 Rough seas often make this site inaccessible from Hurghada, although the site itself is well protected. Current is mainly North to South and strongest along the drop-off.
Scuba divers leave the lagoon through an obvious channel filled with table corals, cross the shelf to the drop-off and follow it North. There are some beautiful caves in the 30-metre region. They return along the inside of the shelf and finish the dive back on the lagoon amongst the ergs.
Along the drop-off pelagics, such as jackfish, barracuda, Spanish mackerel, whitetip sharks and now and then, hammerhead sharks and feathertail rays may be seen. On the shelf turtles, bluespotted rays, Spanish dancers, morays, lunartail and leopard groupers live while in the lagoon schools of squid and baby barracuda play.