THE STORY OF THE SINKING: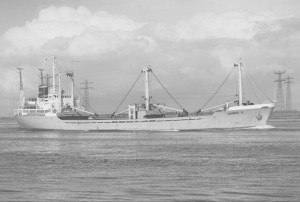 She was launched in 1969 from a Japanese shipyard as the "Shoyo Maru". She was a general cargo vessel of 2,932 gross tonnes and a length of almost 100m.
She was equipped with a Japanese-made 6-cylinder diesel engine capable of producing 3,000 bhp and a top speed of 12 knots.
In 1980 the ship was sold to the Dumarc Shipping and Trading Corporation of Piraeus, Greece and she was re-named Ghiannis D, the "D" standing for Dumarc and it was painted onto her funnel.
DIVING AT THE WRECK: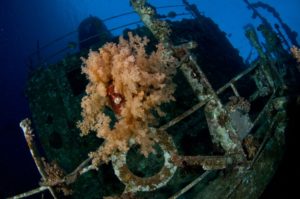 Once she struck the reef and sank, she was declared unsalvageable. She remained on the reef for six weeks during which time her structure was badly damaged and eventually she broke into two and sank. The bow section remained a bit longer and then it also sank. Now she is found in three separate parts on the seafloor.
It is a very photogenic wreck and a relatively easy dive. It is best to start the dive at the stern section as this is the deepest part of the wreck at 23-34m, and move on upward from there. This part of the wreck lies on her portside and you can see the starboard screw and its blades that had been twisted by the power of the collision. The great anchor chain is coiled on the reef.
There is still a ladder on the starboard side and below is the propeller partially buried in the sand. Above is visible the huge funnel with the famous "D" on it. Access into the engine room is easy and provides some excitement deep into the heart of the ship. It teems with tiny glassfish. The bridge section is large and wide open with plenty of light. Here can be found the command bridge and the residential quarters as well to be discovered.
In the midsection where the ship broke into two there are still some rotted remains of the cargo of softwood she was carrying. Large groupers are the usual residents here along with snappers, jackfish, eagle rays and even sharks. This section of the wreck is abundant in parrotfish.
The bow section rests on its port side with the decks facing away from the reef and the main mast lies parallel to the sand now without touching the ground. Hard and soft corals colonise this part of the wreck and lots of reef fish make it their home. A large Napoleon wrasse is often seen around here.