Scooters in Action
The sharks of Sudan attract divers, so all our cabins were booked again last week onboard Andromeda. We headed for North and visited all the sites in our itinerary. We faced some strong currents at a couple of sites but we were in no hurry. We were surrounded by water, nature and the hammerheads were just coming and coming.
Tour date: March 30 – April 6, 2013
Itinerary: Sudan-North
Air temperature: 35C
Water temperature: 27C
Visibility: 30m
There were plenty of hammerheads at all the shark sites, especially at Shaab Rumi and Sanganeb where 30-40-member schools swam passed us. Lots of grey reef and whitetip sharks were at Shaab Rumi but we had to battle strong currents to be able to enjoy them. But this was not that big of a challenge anymore, as we already had the scooters and they were thrown into action right away and passed with flying colours.
Here is the video of the scooters in action:
These brand new scooters arrived a couple of weeks ago in our offices and were sent immediately to Sudan to Andromeda. If you would like to try these great gadgets, you can do so in Sudan at the moment or also in Egypt onboard Cassiopeia very soon.
We had calm weather all week along, void of winds and visibility was excellent.
Day 1: Shaab Suedi, Shambaia, Shambaia
Day 2: Angarosh, Angarosh, Merlo, Shambaia
Day 3: Qita El Banna, Blue Belt, Precontinent, Precontinent
Day 4: Shaab Rumi, Shaab Rumi, Shaab Rumi, Rumi Lagoon
Day 5: Shaab Rumi, Sanganeb North, Sanganeb South, Umbria
Day 6: Umbria, Umbria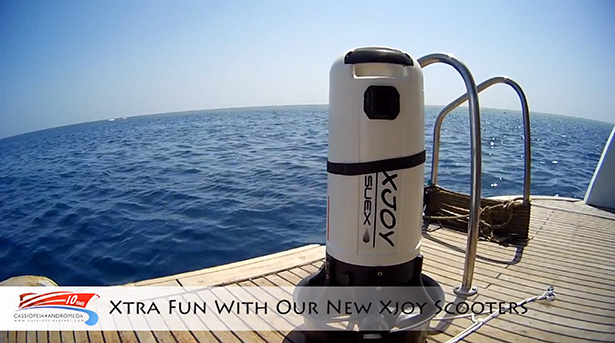 A new week, new hopes. We will be back next week again and let you know what we will have seen.
In case you have missed out on our previous reports, you can catch up by following these links:
Sudan the jolly under and above the water
An Eiffel Tower in Sudan
Manta, hammerhead, barracuda!
The sharks winked back!
Angarosh, the "Mother of Sharks"
A perfect start in Sudan!
Fish parade in the month of the Pisces!