Just like Christopher Columbus, we have also taken to seeing the world and our destination was the deep southern region of the Red Sea. We had heard lots of tales about this place and we wanted to see for ourselves if the amazing stories of the untouched water world were really true.
"Tales are true and truth is only a tale." (Master Hoppan)
Due to a substantial sand storm, we started our discovery Deep South tour in the North at none other than Shaab Rumi which turned out to be a good thing as our curious hammerhead friends surrounded us once again. Leaving the hammerheads behind, we were able to leave for the South, hoping for the best. The winds subsided somewhat but not entirely but this did not hinder our proceedings toward our destination. And in the end, we were able to fulfill the entire planned itinerary!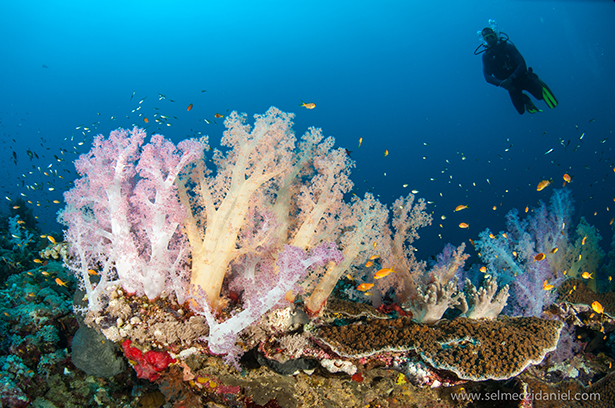 Our second (2-week) Deep South there went without a hitch. We found marine life and untouched coral reefs unparallel to anything we had seen before. We often stopped at turquoise spots, our curiosity was driving us and we just had to jump and see what was down there! There were times that we spotted a no-name place and we happened to find ourselves in the middle of a school of hammerheads, counting up to 30. It was a big surprise for both of us; they were swimming about half a metre from us and they have surely not seen divers before.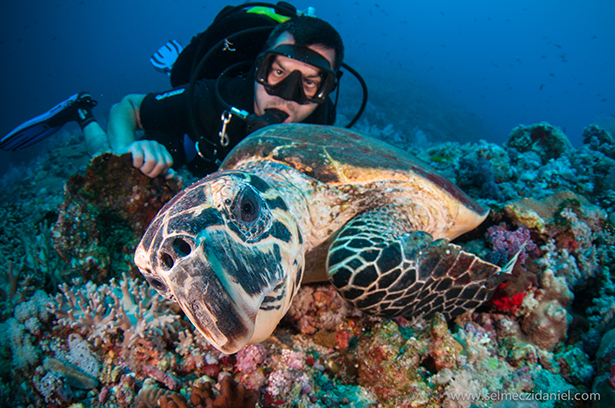 Dahrat Abid, Darraka, Miyum… wonderful untouched reefs, pulsing marine life and plenty to see! There were grey reef sharks, silky sharks, white-tip sharks, barracudas, hammerheads, dolphins, turtles… Every dive was an awesome experience! Our dive suits were left on the boat and we wore only our shorties in the 30-degree water. Aside from Andromeda, no other boats were to be seen during our second (2-week) tour.