THE STORY OF THE SINKING: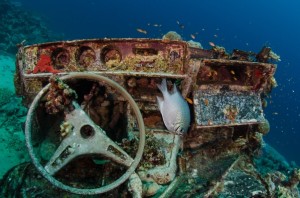 The collision was attributed to poor weather conditions (it being winter) and to a serious error in navigation however exactly how she ended up hitting the reef is not quite clear.
Whatever the reason, the force of the impact against the reef must have been awesome as one vehicle found its way on top of the reef itself.
Attempts were made to try to salvage the wreck and some of her cargo had been unloaded which are now scattered on the seabed, some standing with their wheels firmly on the ground, some upside down.
DIVING AT THE WRECK: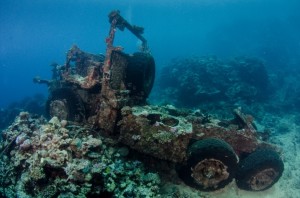 The huge, 103m long wreck lies overturned on the reef wall at a 30° angle, her keel facing upwards and her bow pointing toward the reef. Due to the strong currents, a couple of years ago the wreck slid further down past 60m. Due to her depth now and her unstable state, unfortunately the wreck is no longer permitted to be dived. She is now lost to the sea forever.
The wreck may be entered through a large opening in the hull at 36m and divers can work their way up through the inside to come out near the bow. There are not too many things to see as the decks had been crushed but it does make for a nice swim-through.
The outside of the wreck is also fairly featureless as it is just an upturned hull, although the scale of it is impressive as are some crushed and deformed vehicles that are dangling from the ship. Lying on the reef scattered outside the wreck are the highlight of the dive: coral-encrusted remains of cars, trucks, pick-ups and 4-wheel drives complete with lights, tires, and steering wheels that are great to swim around.
Huge shoals of big-eye trevallies and snappers, as well as lunartail groupers live beside the wreck and frequently white-tip reef sharks can be seen.