What an excellent week this has been! Our guides have gotten so used to the constant presence of large marine life that they have almost "forgotten" about all the other creatures beneath the sea. So, this week we asked them especially about these other creatures and it turned out, marine life here does not teem only with hammerheads and grey reef sharks!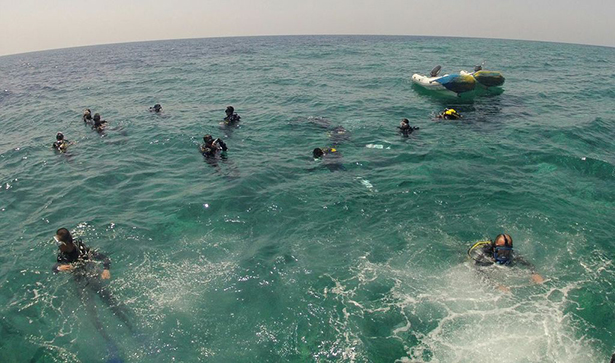 For one, we learnt that the scalloped-edged fins are in this season among the guides. Why? Because triggerfish are spawning these days and they are very protective of their offspring. So, any time the guides swim over their nests, the furious mothers attack the fins, leaving behind their pretty bite marks.
Tour date: April 26 – May 06, 2013
Itinerary: Sudan-Ultimate
Air temperatures: 35C
Water temperatures: 27-28C
Visibility: 30m
Also spawning are the groupers, one of the most colourful characters of the seas, despite their frightening appearance. They are built stubby and look like a spud 🙂 They can be photographed easily, they are quite photogenic as they are calm and allow divers close to them. These days they are cruising in spectacular 50-member schools, specimens weighing up to 30-40kg.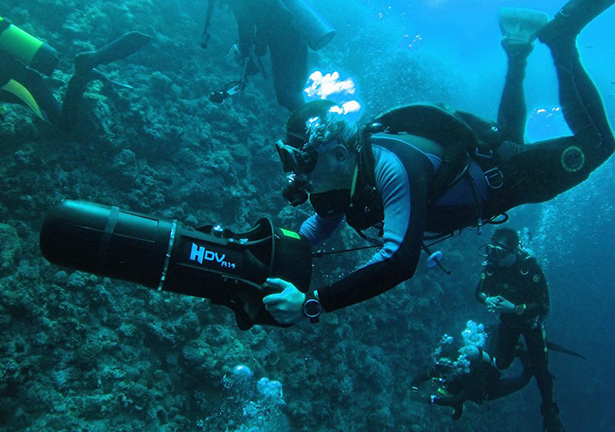 We were getting ready for hammerheads at Logan Reef and we spotted two larger females. At Keary Reef, we already counted ten. And for a change of pace, we met up with grey reef sharks at the southern part of Shaab Ambar. Then came Sanganeb, and a serious size of school as well – thirty sharks swam by us. Shaab Rumi ruled where hammerheads and grey reef sharks greatly outnumbered us.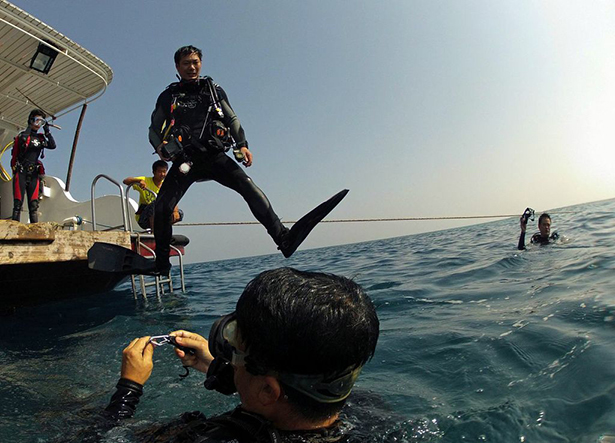 Our chef, Mustafa, got a helping hand in the kitchen this week! Three guests joined him and together they created mouth-watering feasts. On the menu this week – Far-Eastern delights prepared with Sudanese and Egyptian ingredients and spices! Now this is personalised service! 🙂
A new week, new hopes. We will be back next week again and let you know what we will have seen. In case you have missed out on our previous reports, you can catch up by following these links:
In focus – the grey shark
Caught between dolphins and sharks
Scooters in action!
Sudan, the Jolly, under and above water
An Eiffel Tower in Sudan
Manta, hammerhead, barracuda!
The sharks winked back!
Angarosh, the "Mother of Sharks"
A perfect start in Sudan!
Fish parade in the month of the Pisces!