If we are talking about the Sudanese Red Sea, we must emphasise that you can expect to dive with sharks at most dive sites. Sudan's truly unique trait is when you are surrounded by a school of sharks so large, you cannot see beyond it and even the most experienced dive guides used to seeing plenty of sharks are left in an awe. In short, this is exactly what has happened this week.
And this is Shaab Jibna in the next second…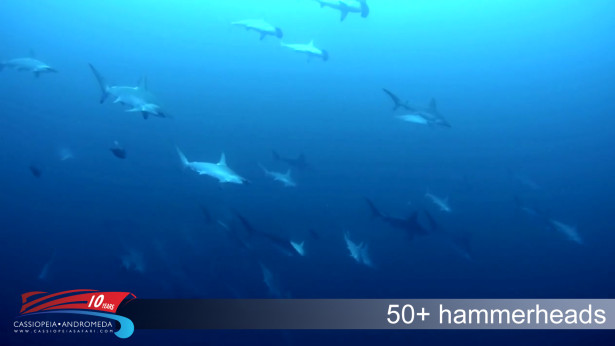 We have had an exciting week. We ran into a couple reef sharks on the southern side of Sanganeb already on the first day and the next morning the hammerheads showed up too on the northern side. Shaab Rumi was exceptional this week with lots of reef sharks, a school of 20 hammerheads, dolphins and turtles. The week was crowned by Jibna where we found ourselves right in the midst of 50 hammerheads at 30 metres. We were literally doused with hammerheads, a virtual cloud surrounding us. This has been the best shark week so far!
We must add though that we had to modify our original tour plan scheduled for this week because of the strong winds. Instead of heading north, we navigated more towards the south as we were not able to go farther than Shaab Rumi. Although Angarosh was left out of the itinerary, Jibna was well worth this little detour. Here is why:
Tip of the week:
If there is a place where your best bet is to dive with Nitrox, it is Sudan! We often swim to 20-40m depths along drop-offs and reef walls.
Why use Nitrox:
– longer bottom time
– shorter surface time
– longer repeat dives
– safety! – using O2 tables, keeping to the maximum depth
– less change for narcosis
This is where we were this week: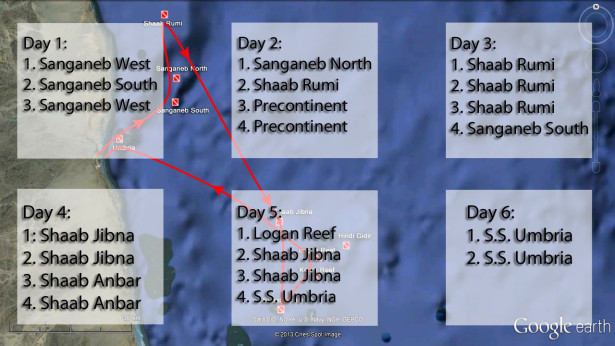 OUR LAST-MINUTE OFFER
April 28, 2014 – May 5, 2014 — Andromeda — Sudan-South tour
Book by April 21, 2014 over the phone or in e-mail!
If you wish to know more about how to dive in Sudan, click here!
Magyar nyelven: www.redseaboats.hu/szudan/
In English: http://www.sudan-diving.com
По-русски: www.sudan-diving.ru